#TheOriginalToday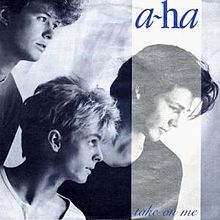 Il 19 ottobre 1984 viene pubblicato il singolo Take On Me degli
, con etichetta Warner Bros.
La seconda versione è stata prodotta da Alan Tarney per l'album di debutto del gruppo, Hunting High and Low .
La canzone combina synthpop con una strumentazione variegata che include chitarre acustiche, tastiere e batteria.
mostra una gamma vocale di oltre due ottave e mezzo .
Il brano era stato composto inizialmente dai "Bridges",i primi a-ha, il duo formato da Paul Waaktaar-Savoy e
, con un titolo diverso, Lesson One, e con un diverso sound.
Il singolo inizialmente stentò a decollare; ci sono volute due versioni e tre uscite per arrivare finalmente in classifica nel Regno Unito, raggiungendo il numero due nella UK Singles Chart nell'ottobre 1985. Negli Stati Uniti nell'ottobre 1985, la canzone divenne l'unica canzone degli A-ha a raggiungere la vetta del Billboard Hot 100.
Il successo si deve in gran parte alla programmazione diffusa su MTV del suo innovativo video musicale, diretto da Steve Barron; mostra la band in una sequenza di schizzi a matita che prendono vita.
Il video ha vinto sei premi ed è stato nominato per altri due agli MTV Video Music Awards del 1986 .
La b side del 7" prima uscita è And You Tell Me mentre nel 12" venne aggiunta Stop! And Make Your Mind Up.
La seconda uscita del 1985 aveva come bside Love Is Reason.